Sorry, I haven't posted for a while. I really am trying to be better at blogging! :-) I have been super busy with moving into our new house, and my ETSY shop getting TONS of orders!! It's great, but a lot of work. I can't wait to show you the 5 new mobiles I'm making!! LOL!
Here's a sneak peak at some upcoming posts...
I also want to give a SHOUT OUT to my favorite machine in the world.... my CRICUT! And the awesome team at Provocraft for mentioning my Little Lamb Baby Shower in their World Wide Online Newsletter! It's not much, but it's kinda a big deal to me. My post on the cricut messageboard has had 63,000 views in the last 2 days! And lots of traffic directed to my blog!
I appreciate all the kind comments from some (hopefully) new friends! The cricut community is the BEST! I get so many great ideas from the talented people who post all their projects on there! Here's the link to the Cricut Newletter, and from there you can click on the link to my Little Lamb Baby Shower post on the messageboard.
http://www.cricut.com/newsletters/volume.aspx?ID=311
ALSO, (Wow, this supposed-to-be short post is turning into a lengthy one) I was also mentioned on an awesome blog: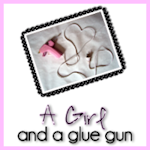 A Girl and A Glue Gun
She's got some great projects and even provides the tutorials to do them! She linked up my
Road Tiles
on her
Car Mat Shout Outs post
. Thanks Kimbo!
I'm feeling pretty special right about now if you haven't noticed......... don't worry, I won't let it go to my head! lol!