If you are familiar with lots of paper crafting blogs, and namely ones that use SVG files, then chances are you might have heard of these two AMAZING gals.
Tamara @ Happy Life, Crafty Wife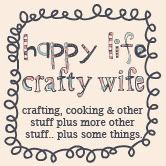 and
Thienly @ Mod Paperie
.

Well they have ventured out and decided to start up their own fun svg challenge blog! These two women seriously are DOLLS, who love playing with paper, hee hee. Hence their new blog,
The Paper Dolls
!
They also have a facebook page:
Paper Dolls
I am constantly amazed at the talent these women possess and the serious attention to detail they put into their work. I don't want to "steal" their photos, so I'll give you the link to some of my favorite projects they have done.
Tamara:
Teacher Book Cabinet
Summer Fun Table Decoration
Father's Day Workbench
Thanksgiving Decorations
Thienly:
Teacher's Desk
Party Decorations
Our Family Explosion Box
Halloween Crackers
You need to go check them out. Now. Really. Do it.
Okay, then make sure to come back on Monday to hear some really exciting news about
The Paper Dolls
first challenge!